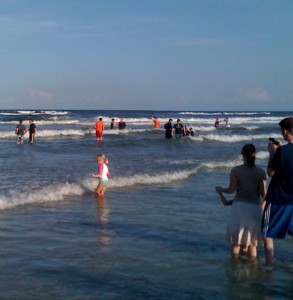 I spent last week in Orlando, FL near the headquarters of GCM, as a stop along the support raising trail back to campus. My good friend Chris hosted me at his place for the week as I worked at finding times to meet with folks and share about the work I do and – during the off hours – spent much time working on upgrading the GCM network firewall with our IT department.
Shortly after arriving in Orlando I found myself standing on the beach facing the Atlantic Ocean. Chris' church was holding their Baptism service – which is much more of a celebration than most churches I've attended. I loved the atmosphere and excitement as we celebrated brothers and sisters making a public display of the inward commitment they had made to follow Jesus.
Together in community we shared a meal, cheered as 113 folks were baptized in the waves of the Atlantic (including some more notable figures), worshiped together in music and voice and shared our lives. This church thinks about baptism much the way that Illini Life does – it's an event we want to celebrate as a church community. It's worthy of celebrating as we watch others make a public declaration to the church body that they belong to Jesus.